* The feedback we got on Louie was overwhelmingly positive from everyone at the conference. His energy and insights were exactly what we needed. Louie was incredible."
-Conference Chair, The New England Association of Amusement Parks and Attractions NEAAPA
* "Louie was 'just what the doctor ordered!' He was great. The team loved him and were motivated by him."
-Tidewater Dental
* "Louie is absolutely AMAZING. Everyone loved him. Not surprisingly, he has an amazing presence and was wonderful to listen to and watch."
-Shemar Pucel sweetFrog, Director of Franchise Marketing and Development



* "Louie Gravance spoke at the Ruby's Restaurants annual Franchise Conference in April of 2016. He was an amazing and energizing speaker! I had so many wonderful comments from the conference attendees on his presentation, with numerous requests from individuals for him to come speak to their individual franchise group. Louie has so many wonderful stories from his Disney experience that he uniquely crafts to the individual group's needs. He is an entertaining speaker who yet keeps the topic relevant and useful for today's business leaders. I can't wait to get him back!"- John Vlietstra Director of Human Resources Ruby's Diners



*"You have the remarkable and uncommon ability to use your natural skills in humor and drama to clearly convey the more s


erious parts of your presentation. You entertained us, but you also used the fact that you'd gotten our attention to drive home key concepts in your presentation. That's a rare skill-you were astonishingly good!"- Elizabeth Lane Lawley Ph.D Rochester Institute of Technology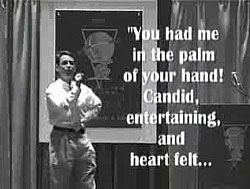 *"You had me in the palm of your hand... I was enthralled by your presentation... I was inspired, and I learned a few things I can apply right here in Columbia S.C."- Beverly Shelley SC Dept. of Parks, Recreation & Tourism
*"We were so impressed with Louie's presentation and its relevance to our own customer service...our nearly 1800 customer service associates were treated to a lively, humorous, and uplifting presentation." - Kim Harm Executive Vice President Customer Service Operations Mutual of Omaha Co.



*"Louie is an extraordinarily gifted individual who has the capacity to touch the minds and hearts of a room full of skeptical individuals and change their mindsets in one hour and twenty minutes! WHAT A FEAT!"- Kathy Pagliughi Regional Director of Stores Kids "R" Us
*"Thank you for providing an inspiring and entertaining evening for our Fisher Scientific Customer Service management team! My week long meeting wrapped up today and I wanted to share some great feedback with you. Principles you highlighted made a profound impact on several members of my team. Your stories were funny, entertaining, and correlated very well to our exciting initiatives for 2004. Again, thank you!" - Angela Blackburn Fisher Scientific
LOUIE GRAVANCE IS CHANGING THE CONSCIOUSNESS OF BUSINESS IN AMERICA!
FORBES MAGAZINE Funny Business
Thursday May 22, 6:35 pm ET By Monte Burke
Those consumers who want fun as much as products are finding it in some unlikely places. Bank of America (NYSE:BAC - News) is the nation's largest consumer bank, but it doesn't want to act like one. That's why tellers at its 4,000 branches have recently started bolting their posts to hop around in conga lines. At Bank of America these antics are the result of mandatory "spirit training," developed because bank brass want employees to have the chirpy demeanor of workers in Disney theme parks. Bank of America insists customer satisfaction is soaring.
(Except of letter from JIM BUCHANAN, BANK OF AMERICA READINESS EXECUTIVE):
Dear Louie, I wanted to take a moment to express my sincere appreciation for all of your leadership, help and support. "The Bank of America Spirit" is transforming our company and I believe will also help to transform financial services around the world. We could not have designed, developed and now implemented "The Bank of America Spirit" without your expertise, tenacity and passion for world class excellence in everything you do. When the Bank of America brand becomes synonymous with great customer and associate experiences you should take personal pride in your contribution to our journey and achievement.